Today brings another challenge at
Die Cuttin' Divas
and what better way to celebrate than with a new project.
The Challenge this week...Penguins
Here is my Design Team project...
Did someone say...shopping? I get excited every time someone says they want to go to the craft store and they want me to take them. How often does that happen? Usually I have to bribe my daughter or hubby to go with me.
black, white, and orange card stock
Simply
Charmed Cricut cartridge ~ penguin
Everyday Paper Dolls cartridge ~ purse cut at 2 1/2"
Create a Critter ~ gift bag cut at 1 1/2"
Docerela stamp ~ Summertime
The Penguin Blog Hop winner is...
Congratulations!
Please send me your mailing address (coachfans at cox dot net), so I can send these goodies. I need to go to the post office this afternoon, so I can mail them right away!
Don't forget to join us at Die Cuttin' Diva this week, especially since we have this magnificent sponsor...The Robin's Nest! Check out the Design Team projects while there!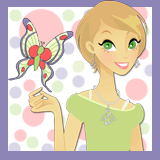 Be sure to come back tomorrow for the Whimsical Designs Wednesday Challenge. You will not want to miss this on either!
I told you this was going to be a great week for challenges!